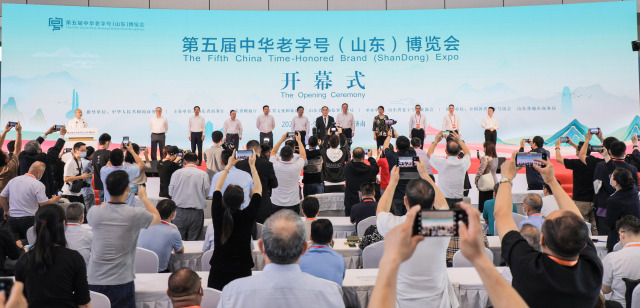 On the morning of September 23, the Fifth China Time-Honored Brand (Shandong) Expo officially kicked off at Shandong International Convention & Exhibition Centre. The Expo is guided by the Ministry of Commerce, jointly hosted by Shandong Provincial Department of Commerce, Shandong Provincial Department of Finance, Shandong Provincial Department of Culture and Tourism, and Shandong Administration for Market Regulation, and undertaken by Shandong Time-honored Brand Association.
The Expo, scheduled to last for three days, is composed of eight major exhibition areas, including the exhibition area for provincial delegations, brands, food, medicine and health, famous wine and tea, intangible cultural heritage, foreign trade enterprise boutique and Qilu Food Street.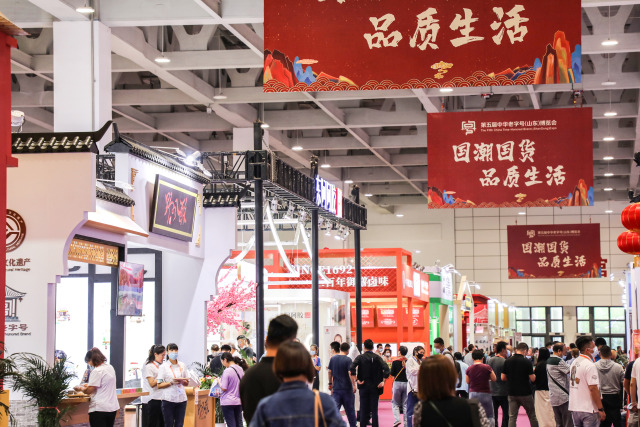 More than 600 enterprises from 25 provinces and cities are present at the Expo with tens of thousands of quality products. The opening ceremony was attended by more than 200 people including government officials, leading individuals of Shandong Time-honored Brand Association, invited guests, exhibitors and purchasers.
In addition to various concessionary promotions, the Expo, open to public for free from Sept. 23 to 25, will also carry out a series of activities such as the Conference of the Master of China Time-honored Brands and Summit Forum on Brand Development, Quality Goods Supply and Purchase Matchmaking Conference, Snack Culture Festival, and Health and Wellness Festival.